These accessories are part of Gabale's Winter Collection.
Estos accesorios son parte de la Coleccion de invierno de Gabale. 
See promotion on My Online Store on Etsy.
Ve la promocion en Mi Tienda Online en Etsy.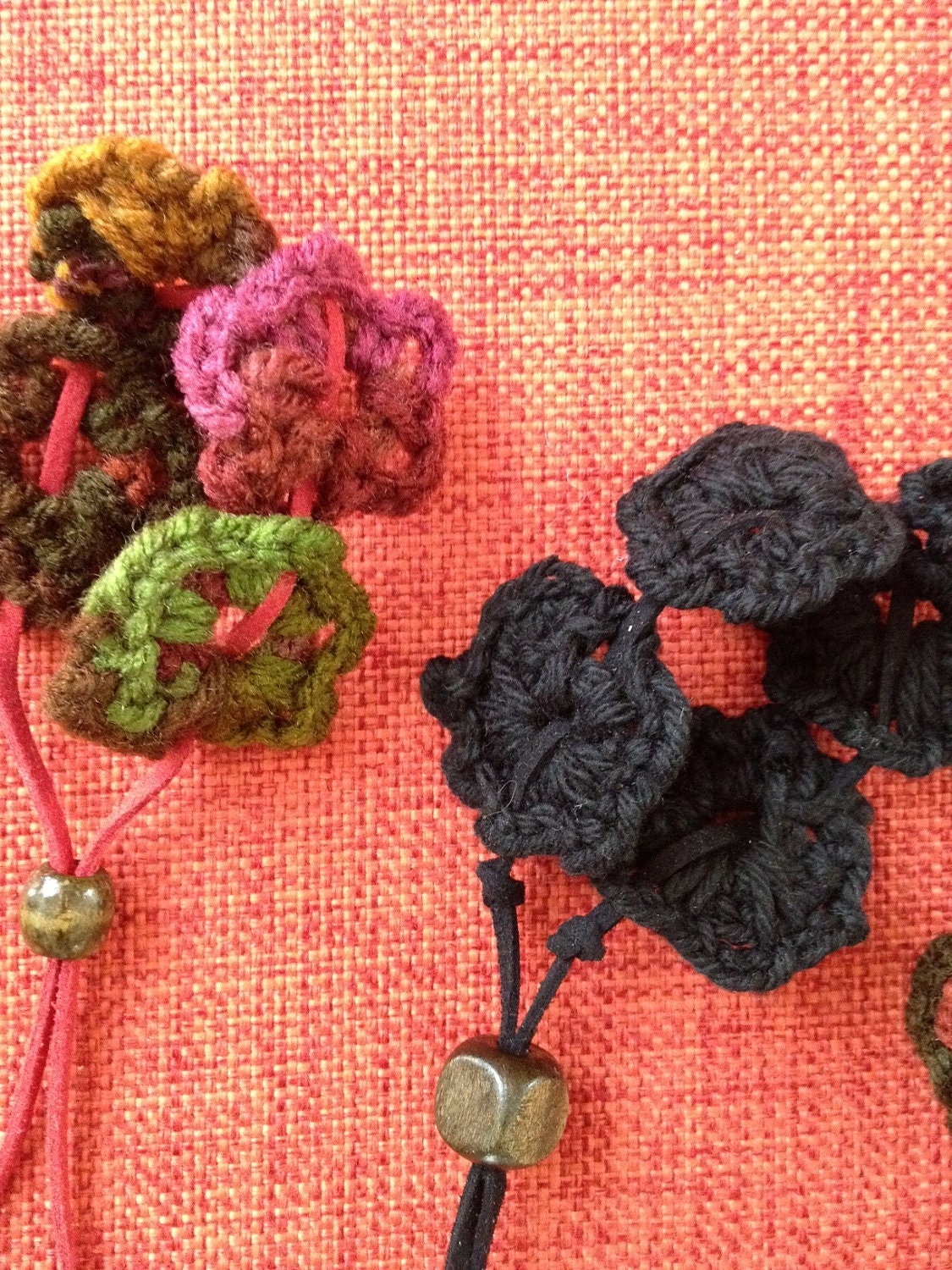 Bracelet - Wool Flowers and leather lace.
Pulsera - Flores de Lana y lazo de cuero .
  

Necklace - Silky Wool Knitted Flowers with Leather lace.
Collar - Flores de lana sedosa con lazo de cuero.
 
Necklaces - Top to bottom : Silver, Multicolor, Black.
Collares - De arriba a abajo : Gris Plata , Multicolor, Negro .
Necklaces and bracelets ... hand made with wool and leather. You could wear them as a necklace or as a choker with the leather knot to the front or to the back.
They are available in Silver, Multicolor Colores de mi Tierra and Black (the black one is not wool , is cord).
The bracelets match the necklaces if you would like to wear them together.
These pieces go wonderful with blue jeans , boots and white shirt. You will love them !!!!
----------------------
Collares y Pulseras...hechos a mano con lana y cuero. Lo puedes usar largos como collar o cortos al cuello con el nudo de cuero hacia adelante o hacia atras.
Estan disponibles en Gris Plata, Multicolor Colores de Mi Tierra y Negro ( el de color negro no es lana es hilo).
Las pulseras combinan con los collares si quisieras usarlos al mismo tiempo.
Estas piezas quedan muy bien con blue jeans, camisa/camiseta blanca y botas. Te van a encantar!!!!!
Bracelet - Wool Flowers, leather lace and wood bead.
Pulsera - Flores de lana, lazo de cuero y traba de madera.

Silky Wool Silver Necklace.
Collar de Lana sedosa en color gris plata.
You could order a "cord " necklace for Spring / Summer, they will be part of the next colleccion .
Puedes ordenarlo en "hilo" para temporada Primavera Verano que sera parte de la proxima coleccion.